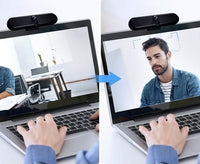 Embedded AI features
Auto-focus & Tracking System
Amazing Face Detection Function offers 6 segments in sensitivity adjustment, adjusting the screen to a suitable size automatically. Speakers are always in focus and at the centre.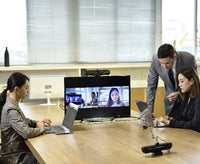 Speak easy
Omni-Directional Audio System
Beamforming microphone with noise suppression are built in , with a range of up to 5 meters. Double talk is capability for several people being able to talk at the same time, without being cut out.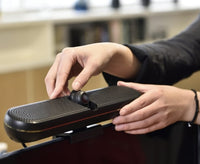 focus on things matter
ePTZ Webcam Remote with Digital Zoom
Digitally zoom, pan, choose from few field of view options while maintaining HD resolution,
Turn auto-framing on to allow the 2K web camera to automatically use EPTZ presets to frame subjects in view
Key Features
Enfokus is an AI-based video conferencing device, which equipped with 120-degree lens, Omni-directional audio system. It is designed to be two-in-one for being the most powerful one.
AI face recognition
Double talk
Echo Cancellation
Noise reduction
Invisible Camera
Built in audio DSP
Meet as you are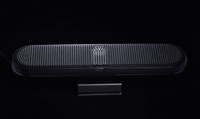 Professional 
Conference Camera
The enFokus is packed with features that
> make it a top choice on the professional webcam
market. It offers a mechanical shutter for capturing
detailed images.
Ultra-Wide FOV
A wider angle of 120° allows
you to see all of the people in
one shot.
Professional 2K Video
Experience HD video
at 2 million pixels. Shoot 30fps
of perfectly clear video.
Low light correction
Boost video quality and restore
crisp images in a variety of
scenarios.
Built-in android system
With perfect user interface, the
video conferencing software
can be installed
Acoustic echo cancellation
Noise reducing digital silicon mics
Enfokus uses AI-based patented audio algorithm and a 4-element microphone array, echo-cancellation ensures that every meeting attendee is heard clearly. The speaker has been tuned to emphasise people's voices and to provide distortion-free, clean sound even at high volumes.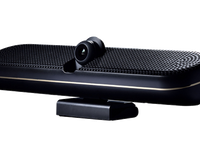 What Users Said About Enfokus